Mind Controlling Fungi - Ophiocordyceps unilateralis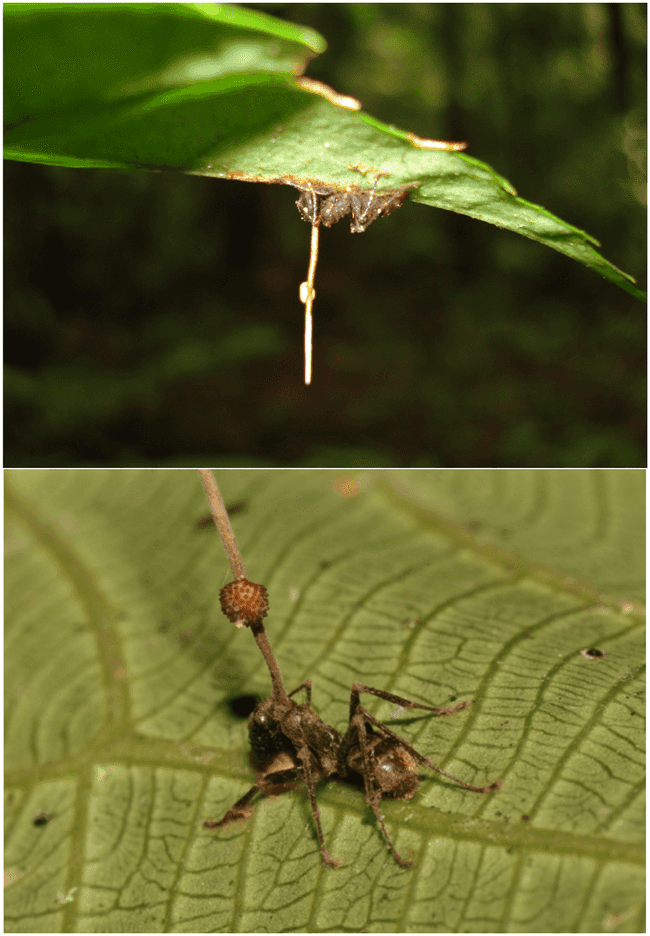 The tropical fungus Ophiocordyceps unilateralis infects ants' central nervous systems. When the fungus infects a carpenter ant, it grows through the insect's body, draining it of nutrients and hijacking its mind. Over the course of a week, they have complete control over the host's movements. It compels the ant to leave the safety of its nest and ascend a nearby plant stem. It stops the ant at a height of 25 centimeters—a zone with precisely the right temperature and humidity for the fungus to grow. It forces the ant to permanently lock its mandibles around a leaf.
Eventually, it sends a long stalk through the ant's head, growing into a bulbous capsule full of spores. And because the ant typically climbs a leaf that overhangs its colony's foraging trails, the fungal spores rain down onto its sisters below, zombifying them in turn.
Source : How the Zombie Fungus Takes Over Ants' Bodies to Control Their Minds
Pic Credits : David P. Hughes, Maj-Britt Pontoppidan, CC BY 2.5, via Wikimedia Commons